IRS tax resolution is my forté, I've set up hundreds of resolutions (ranging from non-collectible status to tiered installment agreements, as well as offers-in-compromise).  After leaving the IRS in 2005, I endeavored to help my clients deal with the IRS.  As an Enrolled Agent, I can represent taxpayers before all units of the IRS, as well as all state revenue departments.  Don't...
Read More
After working for the IRS from 2001 to 2005, I was eager to take what I had learned to the private sector in order to help as many taxpayers as possible. I passed the Special Enrollment Examination, earning me the designation of Enrolled Agent (see definition below), and went to work for two established firms in the tax resolution business. I was disappointed by their focus on retainer versus...
Read More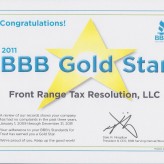 We have recently received a BBB Gold Star rating for zero complaints! My name is Anne and it has come to my attention that I would have the opportunity to write a testimonial about Front Range Tax Resolution.  Approximately four years ago I was fortunate enough to find my way to this fabulous company, with dire need for tax help.  My situation was critical due to past taxes that were...
Read More